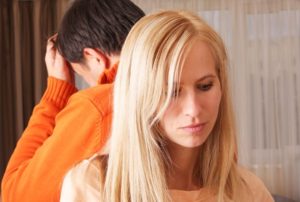 You live in New Hampshire, and you're getting divorced. Right at this moment, you may feel as if you're the only person you know who is going through the divorce process, but the most recent U.S. Census revealed that you are not alone. In fact, the divorce rate is rising for married couples in New Hampshire. The good news is that the NH divorce rate is still more than 20 percent lower than the national average. Divorce rates vary by location within New Hampshire, depending, say demographers and family law experts, on the economic and other conditions where you live.
The loss of your home or your job can make an already troubled relationship collapse. The 2008 recession left tough economic conditions and financial distress in New Hampshire and nationwide hat contribute to the pressures that can lead a couple's choosing to divorce. Those pressures are many. According to research by the Utah State University Cooperative Extension, reported by Foster's Daily Democrat, factors that affect the decision to divorce also include age, education and income.
What if you get divorced and then change your mind? It's not as easy as you might think. One Concord couple recently met defeat in their attempt to lower the divorce rate by undoing their own divorce. In December 2015, New Hampshire's Supreme Court decided that once you go through with your divorce and make it final, that divorce is irreversible. The couple had divorced in 2014 after 24 years of marriage. Their divorce decree had been finalized in July of that year, but eight months later, they filed a joint motion to vacate the decree, having decided they were a united couple after all. The Supreme Court said no.
The justices unanimously ruled that the law allows them to grant divorces, not reverse them. (Courts in some states will vacate divorces under certain restrictions. New Hampshire, like some other states, maintains that judges have no statutory authority to undo a divorce.) You had better be 100 percent sure that divorce is the only option for you and your spouse, because, according to Lynn Tuohy of AP (Huffington Post), "Should those irreconcilable differences suddenly become reconcilable, don't go looking to get un-divorced in New Hampshire." (A divorced couple, of course, can always remarry.)
The seasoned family law and divorce lawyers at the McGrath Law Firm, founded by attorney Peter McGrath, will walk you through every step of the challenging divorce process to address your concerns and achieve your goals as efficiently as possible.  From spousal support, child support, fault, and equitable division of property and debt to valuations, pre-nuptial agreements, and restraining orders, the experienced attorneys at McGrath Law Firm have a successful track record in all aspects of divorce law. Call us to schedule your consultation at (800) 283-1380.