Replevin is heaven – or in our case this week, dog heaven!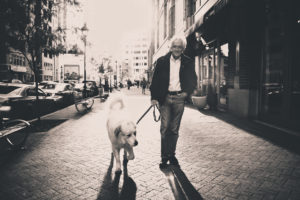 What is replevin?
In New Hampshire an action exists for special cases to recover personal property wrongfully taken or detained.  It can be filed in the Superior Court or District Court, on condition that the value of the property is within the jurisdictional limits of the court.  The Superior Court, unlike the District Court, has unlimited jurisdiction and any action may be brought before the Superior Court.
A Recent victory for McGrath Law Firm
Imagine this fact pattern, an elderly couple permit an occupant to reside at their home because they feel sorry for him.  He has a history of trouble maintaining a job, and is transient. The owners begin noticing several items disappearing within the home and asked the occupant to leave the premises.  The occupant leaves the premises, brings an ex parte petition for a restraining order so that the homeowner would not contact him again and with police assistance, removes his personal belongings from the home.  The occupant even removes the family dog, which he claims he has taken care of.
A final hearing on the restraining order and domestic violence issues is held. The Court dismisses the occupant's petition for domestic violence and restraining order. However, the District Court Judge will not rule on the return of personal items, including the dog.  The dog is considered personal property.  The homeowners were quite upset as they had adopted the dog from a shelter many years earlier.  The only recourse is a replevin action to return the personal property to the homeowner.  The McGrath Law Firm, had a case recently like this and the court ordered the dog and other personal property to be returned to the homeowner within 10 days.
A replevin action is considered a specific performance action and the Court can enforce the return of personal property.  In the instant case, the dog was returned by civil standby at the McGrath Law Firm.  This is just one example why our long term clients keep coming back to the McGrath Law Firm.  We were happy to assist our long-term clients with the return of their dog and other personal property as we know this was important to them.
Contact us!
The legal team members at the McGrath Law Firm, founded by attorney Peter McGrath, former federal prosecutor, will walk you through every step of the challenging legal matter to address your concerns and achieve your goals as efficiently as possible.  From civil litigation, personal injury, Collaborative Law, Family Law, foreclosure prevention, criminal defense, the experienced attorneys at McGrath Law Firm have a successful track record in all aspects of Family Law. Call us to schedule your consultation at (603) 224-7111.