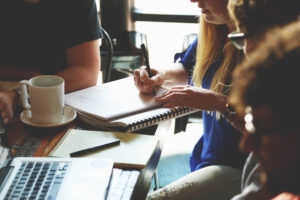 Booking your consultation.
Often when one books a consultation with an attorney they wonder how to get the most out of the meeting. Once you have decided on a law firm or attorney to meet with, the next step is to schedule an initial consultation. Making the decision to sit down and meet with an attorney to go over a legal matter can be a nerve-wracking ordeal. You probably have many thoughts racing through your mind. What's going to happen, how much this going to cost, are they going to be able to help me, etc.… Below are a few suggestions that may help prepare you for your initial consultation and alleviate some of those fears.
Come Prepared for the Consultation:
Bring any paperwork related to your case or legal matter you plan to discuss. That way the attorney can make copies for your file and have a chance to look through it. Of course if you bring a box full of paperwork, the attorney will not have time to go through everything, so just bring what you think is important to the first meeting, as you can always bring other needed paperwork later.
Some of examples of good documents to bring for an initial consultation:
Criminal:              charging documents, citations, complaints, indictments, bail orders, bail bond, hearing notices
Divorce:               petition (if you are the respondent), financials
Real Estate:        if buying/selling bring the purchase and sale, deed, home inspection, survey, tax bill, opposing party's Information, including attorney, if any
Probate:              Original Will (copy will do but the original is needed for the Court), trust, if any, names, address and phone numbers of all potential heirs
Personal Injury:  treating doctor's contact information, medical records, if available, insurance policy, ability to communicate your story leading up to the event
Write Things Down:
Prior to your visit, make a list of questions you would like to get answered during your initial visit. List them in order of importance to you, as typically the initial consultation only lasts an hour. Sometimes it's hard to remember questions you had, or items you wanted to discuss. If you write them down, you'll have an easier time remembering them.
Also, be sure to jot down notes during your meeting with the attorney. That way you can go home and review what was discussed.
What to expect from the attorney:
The attorney you meet with should be knowledgeable and have experience in your type of case, whether it is criminal, real estate, divorce, probate, etc. They should listen to your side of the story and address any concerns you may have. They should be compassionate, yet honest with you about your situation. By the end of your consultation, they should advise as to what the next best steps would be for your matter. They will review the fee agreement, including hourly rates, a retainer (if necessary), a flat fee, etc. There should not be any pressure on you to sign anything, but do keep in mind, there may be upcoming court dates and deadlines, so it's good to not wait too long to make a decision about how to proceed.
The Consultation fee is worth it:
If you are serious about receiving advice from an experienced attorney and it is not a personal injury or medical malpractice matter, then be prepared to pay for an initial consultation. It is definitely worth it whether you decide to hire the attorney or just see what your options are, depending on your case. It will be the best money you ever spend, and will most likely end up saving you money and frustration down the road.
Contact us!
The legal team members at the McGrath Law Firm, founded by attorney Peter McGrath, former federal prosecutor, will walk you through every step of the challenging legal matter to address your concerns and achieve your goals as efficiently as possible.  From civil litigation, personal injury, Collaborative Law, Family Law, foreclosure prevention, criminal defense, the experienced attorneys at McGrath Law Firm have a successful track record in all aspects of Family Law. Call us to schedule your consultation at (603) 224-7111.