Who gets the Pets in the event of a break up you may wonder?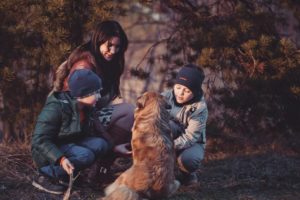 As any pet owner will gladly tell you, dogs, cats, and any other type of pets, are not just something you own or a mere piece of property, they are cherished and beloved members of the family. The emotional bond and connection that develops and exists between owners and their companions is often compared to that of a parent-child relationship. But what happens when a couple with pets breaks up? Who gets to keep the 'fur babies'?
Some couples can work together to reach such arrangements, others benefit from the assistance of neutral third-parties like mediators, while others may end up in litigation to determine ownership.
With a 27% increase in pet-custody matters between 2009-2014 according to a study by the American Academy of Matrimonial Lawyers (AAML), these are questions which the courts will continue to have to resolve.
In the News
Although not the result of a failed relationship, a case currently being heard in Colorado regarding a dispute over ownership of a 7-year old Siberian Husky shows how difficult such matters can be for everyone involved. The dog at issue wandered away from her home 3 years ago, ultimately ending up living in the home of a woman in another county. When the dog wandered away from her second home earlier this year, local animal control discovered a microchip which led them to the dog's original owner. Now the two individuals are involved in a bitter custody battle, each arguing that the dog is a treasured family member.
During a hearing earlier this month, a Colorado judge ruled in favor of the dog's original owner despite the bond that the dog had developed over the past 3 years with her second 'owner'. Under Colorado law, animals are considered personal property. As a result, the judge indicated he could not consider the best interest of the dog when determining who was the rightful owner. The second 'owner' has filed an appeal with the case now heading to trial.
Changing Nature of the Law
Pets are generally treated as personal property by the courts, they have no special status under the law. In divorce cases this means their fate is often determined according to the marital property laws of that state along with all the other objects to be divided between the parties. This is true in New Hampshire. Typically, if the pet was yours prior to marriage, the animal will be considered separate property. However, if marital property was used to cover major costs associated with your pet, the court could deem that a previously-owned animal has become marital property necessitating a decision regarding ownership.
Nevertheless, there is growing support within the legal community for the idea that the best interest of the animal should be a consideration, in the same way it is for children, when making determinations about ownership, custody, and visitation. Some judges have already started awarding shared custody and visitation of pets between the parties, leading to provisions like those you might see in a parenting plan. Continuing this trend, earlier this year Alaska enacted 'pet-custody' legislation which allows a court to consider the animal's well-being when deciding which party the pet should go to and whether and how to implement visitation with the non-custodial 'fur parent'.
Custody Considerations
If the court does address how to share time with a pet between the parties, the judge will look at several factors before making a final determination. These may include who cared for the animal (i.e. feeding, grooming, walking, vet visits, etc.); who spent the most time with the animal; how well was the animal cared for; where each of the parties intends to live following the divorce (i.e. apt, house, outdoor space, etc.); and who is best able to care for the animal and provide a good environment going forward. Maintenance of clear and accurate records regarding expenses such as purchase/adoption fees, licensing, food, training, exercise, boarding, and vet care goes a long way in making a case for ownership. However, if there are minor children involved, the pet will almost always end up in the children's primary home.
Contact Us!
The seasoned family law and divorce lawyers at the McGrath Law Firm, founded by attorney Peter McGrath, will walk you through every step of the challenging divorce process to address your concerns and achieve your goals as efficiently as possible. From spousal support, child support, fault, and equitable division of property and debt to valuations, prenuptial agreements, annulments, and restraining orders, the experienced attorneys at McGrath Law Firm have a successful track record in all aspects of divorce law. Call us to schedule your consultation at (603) 224-7111.